Art in the Anthropocene: Encounters Among Aesthetics, Politics, Environments and Epistemologies, edited by Heather Davis and Etienne Turpin. London: Open Humanities Press, 2015.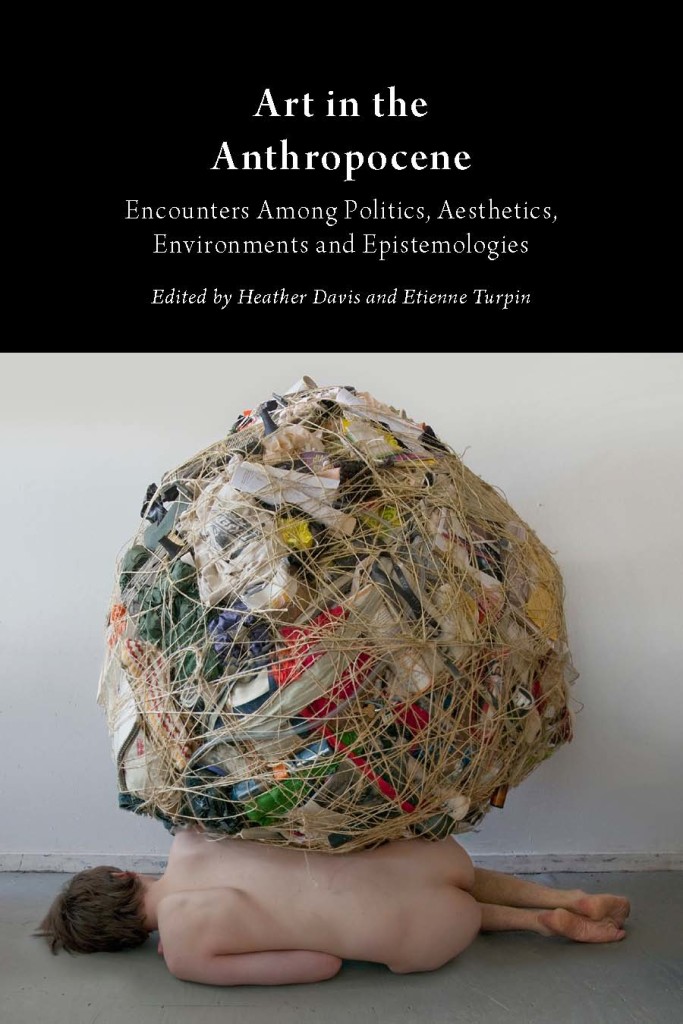 Art in the Anthropocene brings together the work of artists, curators, art historians, and philosophers to critically engage with the Anthropocene thesis in the wake of the Fifth Assessment Report of the IPCC, the most comprehensive assemblage of images and data on anthropogenic climate change to date. The essays, interviews, and artistic interventions that constitute this collection take the current environmental catastrophe as their starting point and expand the discourse on the geologic turn to include aesthetic, curatorial, and artistic strategies for confronting, criticizing, or otherwise engaging the Anthropocene thesis.
"This brilliant collection of essays and projects, gathered from all over the world, reflects the limits and possibilities of how visual art might respond to what Sylvère Lotringer describes as a "state of emergency." Art in the Anthropocene is at once an investigation and an homage to the natural world. It describes what we possess and what we have lost." Chris Kraus – author of Where Art Belongs
"Art in the Anthropocene is an art book like no other, embracing an extraordinary range of subjects that affect what we call "our" environment. Visual artists are, for once, equal participants in these imaginative, intelligent, and informative discussions of the most pressing issues of our time, and deep time." Lucy R. Lippard – author of Undermining: A Wild Ride through Land Use, Politics and Art in the Changing West
"Call it the Anthropocene, the #misanthropocene, or something else—there's a growing recognition that these are damaged times, even if nobody is quite sure how to see, think, or feel them. That's why Art in the Anthropocene is so important. Davis and Turpin have gathered up the seeds for a whole biome of art and thought about the things that really matter in this world." McKenzie Wark – author of Molecular Red: Theory for the Anthropocene
"This is a rich, ambitious, and beautifully edited collection that reimagines the Anthropocene as an affective rather than a scientific fact. It touches the very core of our being (post)human—and of the space around us we variously call "the environment" or "the world." Art in the Anthropocene is vital read for anyone who cares about art, animals, climate, ethics, extinction, justice, plants, poetry and the weather!" Joanna Zylinska – author of Minimal Ethics for the Anthropocene
Desire Change: Contemporary Feminist Art in Canada, edited by Heather Davis. Montreal: McGill-Queen's UP and MAWA, 2017.
Buy here
On the occasion of their 30th anniversary, MAWA commissioned this first book of essays on contemporary feminist art in Canada. This book is long overdue, and responds to the resurgence of feminist art, thought and practice in the last decade. The resulting collection addresses the field of feminist art through an activist lens to examine intersectional feminism, decolonization, and feminist institutional critique and institution building in a Canadian context. With writing from art historians, artists, curators and art writers Desire Change takes up the stakes and concerns of contemporary feminist art, with an understanding that feminism is always and necessarily plural. Richly illustrated, this book charts a path from earlier feminisms to deal primarily with artists from the past twenty-five years. In the resistance to the violence of gender-based oppression, vibrant worlds have emerged, full of nuance and humour and beauty.
The book addresses the desire for change through three central frames: How feminist art has significantly contributed to the complex understanding of gender as it intersects with sexuality and race; the necessity of thinking through patriarchy in relation to colonization within the Canadian nation-state; and the importance of institutional critique to feminism, feminist art and feminist art history and the ways in which this form is expressed today. In addition to the essays in this volume, an extensive and collaboratively sourced timeline of important events for feminist art in Canada appears as an appendix to the volume.
Contributors include: Janice Anderson (Concordia University), Gina Badger (artist, writer, editor, Toronto), Noni Brynjolson (UC San Diego), Amber Christensen (curator and writer, Toronto), Karin Cope (NSCAD), Lauren Fournier (artist, writer, and curator, York University), Amy Fung (curator and writer, Toronto), Kristina Huneault (Concordia University), Alice Ming Wai Jim (Concordia University), Tanya Lukin Linklater (artist, North Bay), Sheila Petty (University of Regina), Kathleen Ritter (curator and writer, Vancouver), Daniella Sanader (curator and writer, Toronto), Thérèse St. Gelais (UQAM), cheyanne turions (curator and writer, Toronto), Ellyn Walker (Queen's University), Jayne Wark (NSCAD) and Jenny Western (curator and writer, Winnipeg).
Plastic: The Afterlife of Oil (under contract with Duke UP)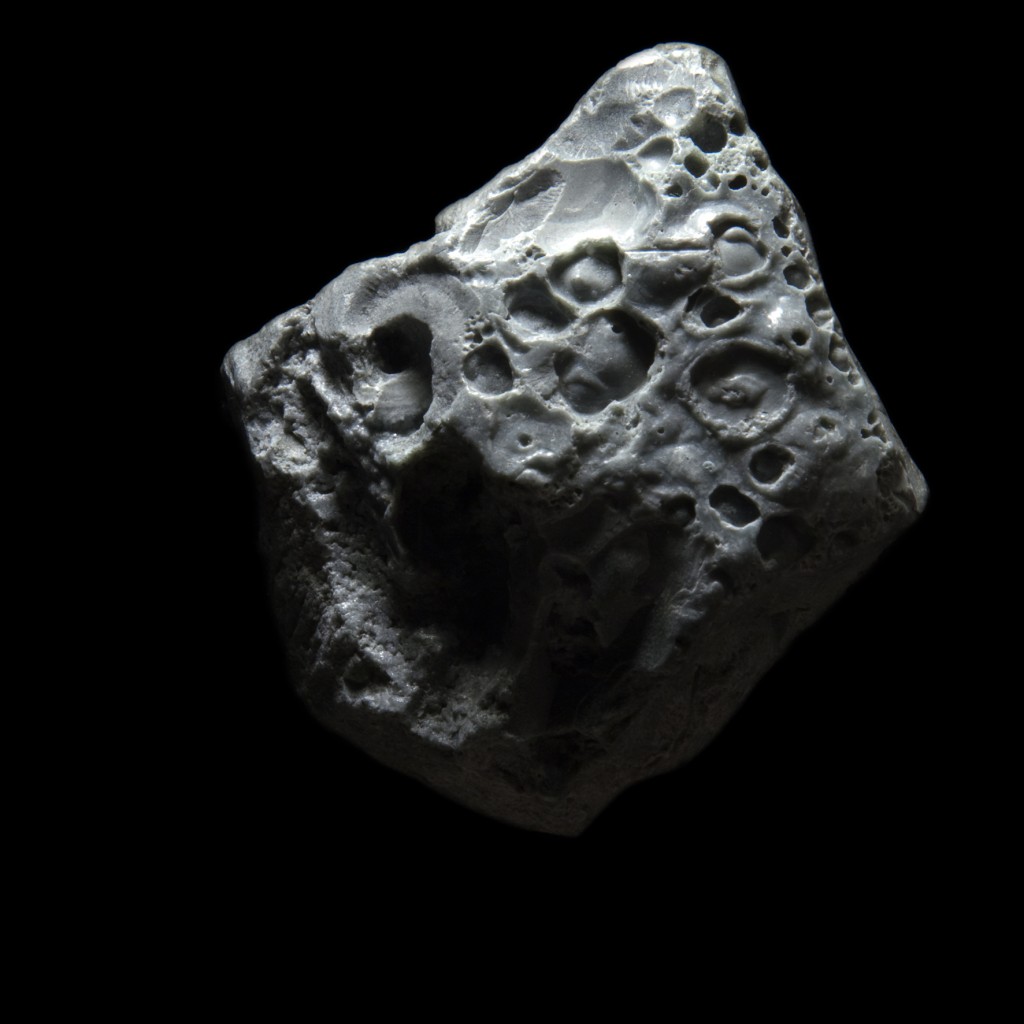 Image: Plastic Meteorite, Perdita Phillips, 2013
Contemporary petrocapitalism, defined by the global trade in goods, the facilitation of movement, and the rise of digital culture, rests upon a relatively new material: plastic. Plastic provides the infrastructure of the twentieth and twenty-first centuries; it provides shape in the form of containers and houses and enables movement of ideas through digital networks, transportation, and the circulation of goods. It is the intimate manifestation of our cultural fixation with and dependency upon oil. And yet it is a material beyond oil, a material that effectively effaces its origins in oil; it is the afterlife of oil, the ineradicable residue of the era of petrocapitalism. In this book I ask two critical questions: what worlds does plastic create and what are the implications of its seeming ubiquity in our everyday lives? In asking these questions, Plastic: The Afterlife of Oil is interested in the mutual feedback systems among ideas, materials and culture, with particular attention to the forms of ethics that the materiality of plastic demands.